Medislipper 1000 plus
For the active and passive rehabilitation of ankle injuries and sprains
Medislipper 1000 plus
For the active and passive rehabilitation of ankle injuries and sprains
Medislipper 1000 Plus introduces the possibility to stimulate the mechanoreceptors and proprioceptors determining a rapid muscle activation in all circumstances. Acting on the articular excursion and speed of movement it is possible to act on the complex movements of the ankle allowing you to achieve outstanding results.
Medislipper 1000 Plus allows an optimal recovery thanks to the execution mode Passive and Active and to the possibility of acting on various parameters such as the speed of movement, the articular excursion and the resistance.
Medislipper 1000 Plus allows the functional recovery of the following movements:
Partial circumduction
Total circumduction
Dorsal flexion
Plantar flexion
Pronation
Supination
Varization
Valgization
Inversion
Eversion
Thanks to the new specific electronic function that characterize Medislipper 1000 Plus, the circumduction movement can be performed either actively or passively.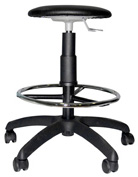 To make good use of the machine, the patient leg must reach a 90° knee flexion as showed in the picture.
For the exercise on Medislipper 1000 Plus use a stool with height regulator modified to 57/70 cm.
The two measures, 57-70 cm, garantee the correct knee flexion.